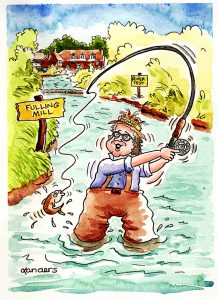 ".........what a great idea!"
Recently, a customer came across my website looking for a unique novel gift that she could give to a work colleague who was soon to retire. She was handling the works collection and thought "A Custom Cartoon! What a great idea?" She contacted me and we discussed ideas that could be included within the artwork. A sketch was produced and sent around the workplace where many of her colleagues were eager to suggest a few additional funny items. Collectively, it all added up to a treasured keepsake that would remind their colleague of the great working relationship built up over the years, for a long time to come
.
If you have had a collection in your workplace and would like to find out how a beautiful watercolour cartoon can be produced for your workmate, just give me a call.
I use quality materials and artists colours that won't fade with time.
My cartoons are really easy to commission and I will guide you through the whole process from rough sketch to finished colour artwork.
Click the button 'How to Custom your Cartoon' button below 
If you wish to contact me to discuss commissioning your own customised gift cartoon, please call me on 01279 316467​