Christmas Cartoons for 2022
Corporate Christmas Card Cartoon Commission.
There's plenty of time to think about a Christmas cartoon commission for your company. However, now would be a great time to get ahead of the rush. You can contact me to discuss funny ideas that will 'hit the spot' for your clients.
'Off The Shelf' Christmas Cartoon Stock.
Do you want to use one of my cartoons for your company communications. You can chose from the images below and contact me for 'one-off licensing' details.
I guess the supermarkets and radio stations will be giving us our usual fill of Chris Rea's evergreen classic this year!
Ahh! There's nothing that makes Christmas viewing more satisfying than a slice of 'Back to the Future'.
All the cartoons on this site are reduced 'resolution images' for quick upload. If you wish to licence this cartoon for your own use, please contact me and I will provide you with a quote and simple details. Upon acceptance, you will receive a high resolution version for your use.
……..and what are the chances the child will even remember the generosity longer than 10 seconds?
Do you like the cartoon but need to alter the caption to fit the company or individual? No problem!
If this is what you are looking for but need a colour version, no problem!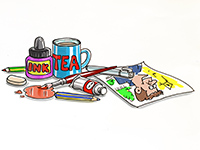 If you wish to contact me to discuss how my Christmas cartoons can fit your needs, please drop me a line from the contact page.