---
---
Commissioning your Personalised Cartoon.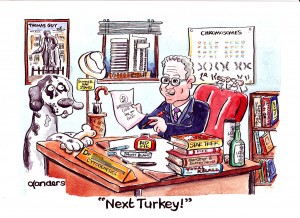 Cartoon Commission
Landers Customised Watercolour cartoons are drawn and painted on pure quality acid-free watercolour paper using top of the range quality artist watercolour paints. These custom cartoon images and artworks will not yellow or deteriorate over time, making them ideal as long lasting gift items.
Landers Cartoons are created from your ideas and suggestions. These unique cartoons make an everlasting keep-sake for golden memories to treasure forever.
All cartoon commissions are created to your specification - Funny moments, hobbies, obsessions, styles, odd fashion, favourite music or sprots, quirky sayings........they can all be included to make up a colourful one off tribute that will be treasured forever.
I offer a very affordable service and work to your specific requirements. Cartoon contents are fully researched and approved by you as accurate and to your likings beforehand. You get to see the sketched draft, before moving onto the next stage (the final coloured artwork).
I can provide a mounting and framing service too - this service is available by request.
Finished artworks are normally sent you via the Royal Mail or via a Courier Service. All packages are prepared and protected for transit. All packages will be dispatched by reputable couriers and each cartoon consignment will be tracked and signed for - ensuring safe handling and arrival of your cartoon artwork.
---
My customers are always satisfied with the final results. I have received plenty of testimonies over the years, confirming their delight with my cartooning service.
You can read my customers reviews and see what have to say about my this service. Yell. &  The FreeIndex.
---
---

Newsletter, Promotional Items, Calendars,Logos, Character development, Web Pages, Advertising Promotions.
Business Cartoons
It's that time of the year again. I am taking orders now for your customized Christmas cards. You can either licence an existing cartoon for your Christmas Card Cover or Commission your own from your own ideas. Christmas Cartoons
Need a custom cartoon gift for a friend's birthday, a work colleague's leaving gift or a retirement present for your work mate?
Your answer - Funny custom cartoons created by Cartoonist John Landers!
Beautiful, funny personalised cartoon watercolour portraits - guaranteed to raise a smile.