What can my cartoons do for your business?
First of all, business cartoons give great visual impact to advertisements, newsletters, advertising promotions and in house publications. 'See the drawing, Read the caption, Absorb the Ad'.
Cartoons are created for vehicles, murals and posters. In addition, smaller items like flyers, leaflets and yellow pages ads.
This is a great way to communicate with your audience. As a result, I Produce many original cartoon works for HR personnel projects which include staff handbooks, Health & Safety posters and booklets, staff communication and Corporate Animations.  Contact me for details of examples of my work.
Are you looking for colour cartoon artwork for 'Large Company' Calendars?
 Contact me to request Calendar samples.
I am available to hire for a demonstration of my business cartoons for corporate functions and live presentations. These sessions are always lively and full of fun ideas. As a consequence, my cartoons can give your meetings and presentations great impact. Seems like a good idea? Give me a call, I am available for creating cartoon ideas for Corporate Visualisation 'Blue Sky Thinking' presentations. Click for more detail.
Does your company offer a service or sell products at exhibitions? Because live artwork fascinates people, this sort of promotion literally 'Draws the Crowds!' Let me show you how your company's presence at these events can really create a lasting impression with a live cartoonist, caricaturing your visitors?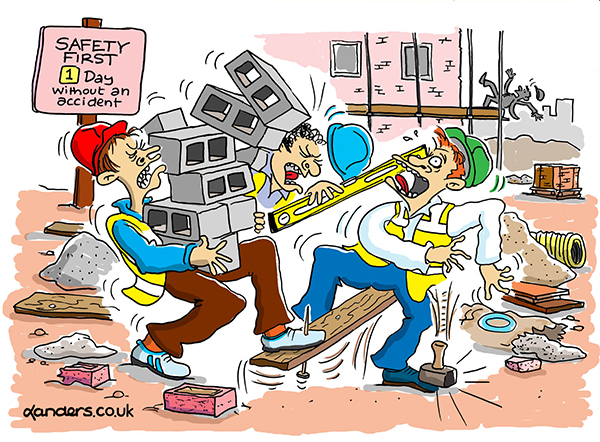 Cartoons have great visual impact for advertisments too.
Are you running a campaign soon?  Contact me for more information on how my cartoons can help your campaign achieve maximum impact.
I create Cartoons for Vehicles, Murals, Posters, as well as smaller items like flyers, leaflets and yellow pages ads.
Give me a call, I would be pleased to talk to you about how my Cartoons can help your business on 07914 909740
cartoons@landers.co.uk
Browse a selection of my work.
Contact me to find out how I can make your company's customers laugh with my Cartoons.