Business Cartoons give great visual impact to advertisements, newsletters, advertising promotions and in house publications. 'See the drawing, Read the caption, Absorb the Ad'.
I create cartoons for vehicles, murals and posters. Also, smaller items like flyers, leaflets and yellow pages ads.
I have produced cartoon artwork for various HR personnel projects which include staff handbooks, Health & Safety posters and booklets, staff communication and Corporate Animations. Contact me for details of examples of my work.
I have produced colour cartoon artwork for 'Large Company' Calendars. Contact me to request Calendar samples.
I am available to hire for a demonstration of my business cartoons for corporate functions and live presentations. My Cartoons can give your meetings and presentations great impact. I am available for creating cartoon ideas for Corporate Visualisation 'Blue Sky Thinking' presentations. Click for more detail.
Does your company offer a service or sell products at exhibitions? Can your company's presence at events be enhanced by having a live cartoonist, caricaturing your visitors?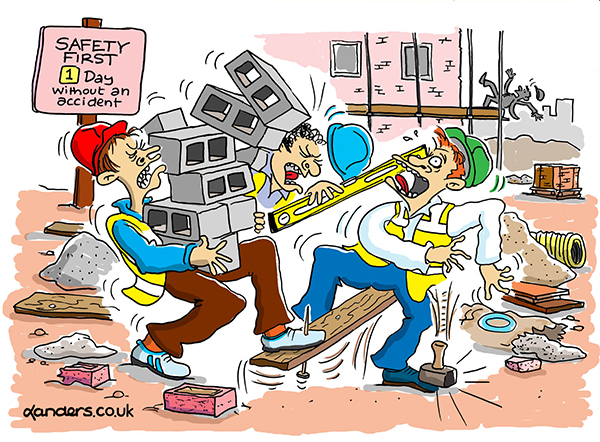 Cartoons have great visual impact for advertisments too.
Are you running a campaign soon?  Contact me for more information on how my cartoons can help your campaign achieve maximum impact.
I create Cartoons for Vehicles, Murals, Posters, as well as smaller items like flyers, leaflets and yellow pages ads.
I would be pleased to talk to you about how my Cartoons can help your business on 07914 909740
cartoons@landers.co.uk
Browse a selection of my work.
Contact me to find out how I can make your company's customers laugh with my Cartoons.